Procrastination is Public Enemy One when it comes to completing tasks and effective time management. We all procrastinate on things from time to time. Sometimes it helps to procrastinate or may even be necessary (yes, that is always possible).

The problem starts when we start to procrastinate on the really important things–the tasks or projects that have very negative consequences if not completed or by a certain time, or those that will bring you more of what you say you want–or when procrastination causes you to stress out by doing things at the last minute, miss out on advantageous opportunities, impact others in a negative way, or affect the quality of the work you finally do produce–that's when it is detrimental.
If you are self-employed or in business, then the amount of time that you spend doing tasks that aren't relevant to your business means loss of money.
When procrastination becomes a habit, we find it hard to break free of the pattern.
You are a card holding member of the Procrastination Club if: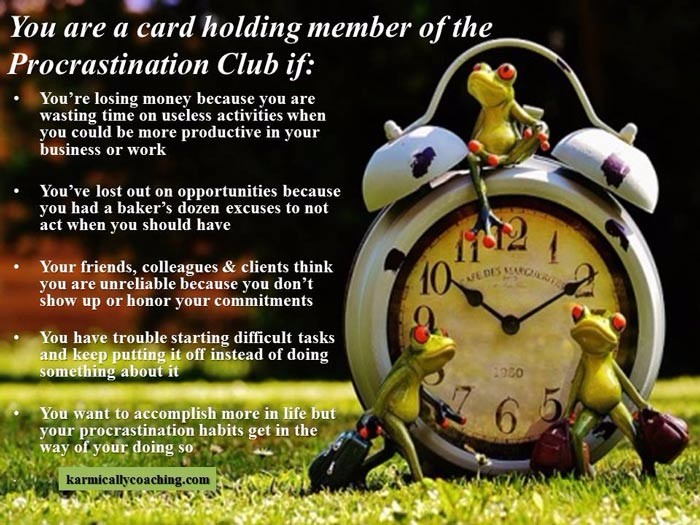 If any of the above sound like you, then Karmic Ally Coaching's Procrastination self-help course is the first step in the right direction.

You can read all the self-help manuals in the world and try every technique in the book but you won't get very far unless you are committed to change – which means breaking the procrastination habit.
Want to be free from the Procrastination Habit?
The good news is that help is at hand. All it takes is 5 steps.
Introducing Karmic Ally Coaching's Anti-Procrastination Program
5 Steps to taking important actions so you start making money
Having coached dozens of clients on their time management skills, I've distilled my observations down to 5 steps that are doable and which will help you break down your habit of postponing actions and creating chaos for yourself.
Whether you are a corporate world professional, small business owner or a student, this program works because apart from taking action, you also learn more about yourself. Understanding yourself means understanding your roadblock to success.
Here's what we cover in our 5 Step program:
Your personal patterns of preferred & procrastinated activities
Zero in on a key area of your life where overcoming your tendency to procrastinate can make the biggest difference
Understanding why You procrastinate – how do you reason with yourself
Create the conditions for your success in beating procrastination
Create your plan of attack and actions
Tweak it!
In this course, your key learning outcomes include
Understanding your unique tendency to procrastinate
Creating & sticking to an action plan for completing your procrastinated task
Selecting strategies and actions you can take to get rid of your procrastination habit
Establishing a foundation for self-development because once you get the hang of the 5 steps, you can apply it again and again.
Training material will be delivered via video, audio format with a workbook to complete exercises at each step. You'll also receive Karmic Ally Coaching's Time management Tip Sheets and access to the procrastination teleclass How to Stop Procrastinating right now.