Are you a career professional, independently practicing professional, small business owner, consultant, healer, freelancer or student who's overwhelmed with all the tasks you need to complete during the day?

You've probably wondered more than once how you could possibly fit all your tasks, duties and obligations into your day without feeling tired out and still have time to relax and do recreational activities.
Here some more questions to think about (be honest)
Are you finding your work life balance out of sync?
Do you feel you need more than 24 hours a day for everything?
Has your To Do List become a bit of a joke?
Despite working crazy hours, you really wish you could go home on time or close your business hours on time for once, just once?
If so, and you're frustrated, exhausted and feel incompetent, inefficient and ineffective, I think you'll love this 5 Simple Steps to win your Time Management Challenge online course from an intuitive, analytical, no-nonsense, experienced Career and Business Coach who simplifies things and doesn't believe in reinventing the wheel.
Like my coaching and consulting clients, I like to get to the core of the problem and find the simplest solution without creating stress or worry.
When you're facing a challenge like this, you can find you're not getting any real work done and find reasons to procrastinate.
Your lack of prioritization affects what you want to really achieve and which is meaningful when you look at the big picture. This affects your work, career, family life and potential to bring in business.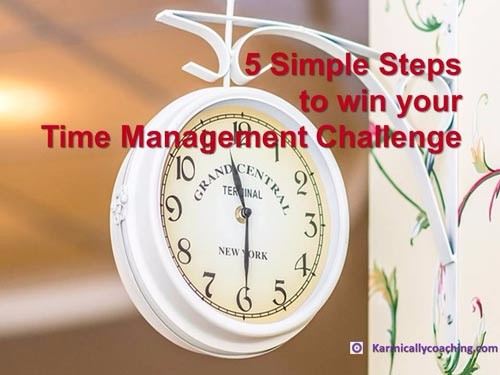 That's why I've created 5 Simple Steps to win your Time Management Challenge online course for career and independent professionals, small business owners, consultants, healers, freelancers and students like you.
After completing this simple 5 step course,
You'll understand that Time Management techniques won't work until you change your time habits and learn to prioritize your work.
You'll learn how to identify the various distractions that affect your productivity and tackle them firmly and with confidence.
You'll create an effective and efficient time schedule that fits in everything you need to do without overwhelm
I've included additional tips to help you with specific work areas that can be managed efficiently and save time.

I'm confident that will make you feel more in control of your time, your results and face each day with a confident, relaxed and ready to work attitude.
To find out more, read on…
There are lots of time management techniques, tips and tools out there but each one of us is unique and our methods of getting work done differ depend on a lot of other factors.
For example, if you are a morning person then it makes sense to do your more important tasks that require a fresh mind and energy at the beginning of the day rather than later.
This isn't your regular time management course.
It's one designed to be an action oriented experience for the user.
If you follow each step of the course, you will
Get a clearer idea of where you are wasting time and reallocate this precious commodity for successful goal achievement
Tackle your time bandits and improve your efficiency
The easiest time management technique which gets results without even trying
Strategies to support your time management habit change
Tips to stop procrastination in its tracks
Specific tips for work that help you manage your time
The beauty is that you can do the 5 steps whenever you find yourself slipping off your time utilization plan and get back on track.
This course includes worksheets, templates and handouts to help you create your own effective time management strategy and stick with it.