Procrastination is Public Enemy One when it comes to completing tasks and effective time management.We all procrastinate on things from time to time. Sometimes it helps to procrastinate or may even be necessary (yes, that is always possible).
The problem starts when we start to procrastinate on the really important things–the tasks or projects that have very negative consequences if not completed or by a certain time, or those that will bring you more of what you say you want–or when procrastination causes you to stress out by doing things at the last minute, miss out on advantageous opportunities, impact others in a negative way, or affect the quality of the work you finally do produce–that's when it is detrimental. When procrastination becomes a habit, we find it hard to break free of the pattern.
When it comes to identifying procrastination I have a favorite question that I call the Wimpy (of Pop-Eye fame) question. What is your answer?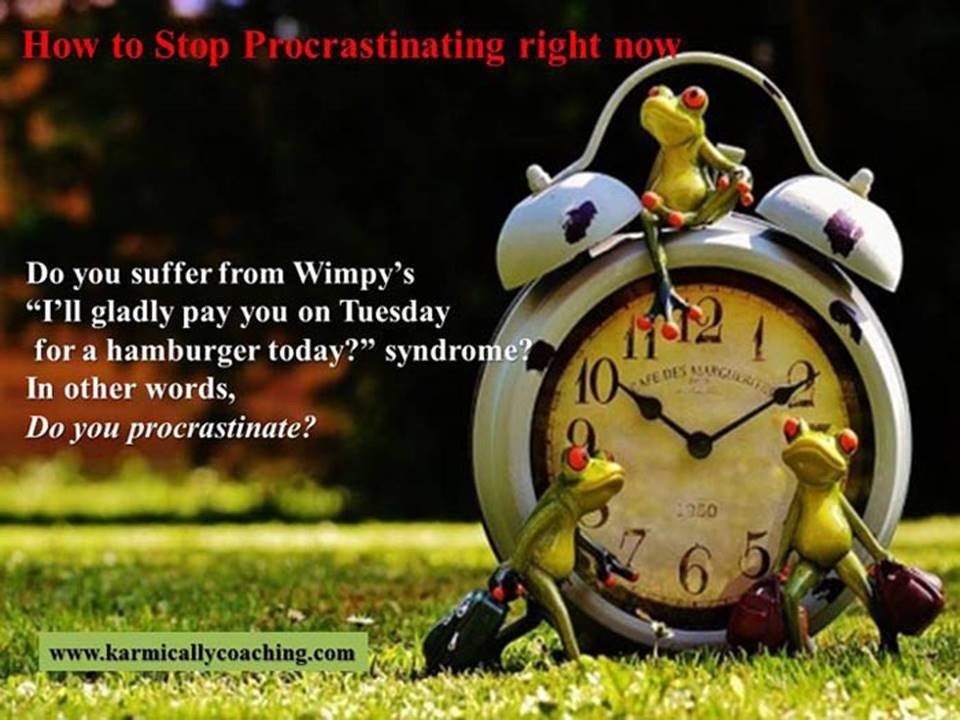 If you answered Yes, then Karmic Ally Coaching's How to Stop Procrastinating right now
mini-course is exactly what you need!
Learn to tackle your personal brand of Procrastination in 5 days – guaranteed!
Taking 1 step at a time over 5 days you will
Identify your personal procrastination habit
Discover and apply an efficient way to overcome inaction
Identify core reasons for your habit
Learn a unique Muscle testing technique to tap into your intuition (I'll show you a method to do an honesty test for the reasons why you think you procrastinate -which means no more excuses)
Embrace a better philosophy to replace procrastination and
Do daily exercises that create a new mindset & habit
The lessons are short with quick actionable steps and worksheets that guarantee results provided you follow the guidance.
Are you ready to take action and become productive?