If you suffer from lack of productivity… if you are producing low quality work….if you find yourself wasting time on tasks that don't help you achieve anything significant… if you are stressed out, worried and getting anxiety attacks… then this message is just for you. Here's why… You can rid of Procrastination.
And you need to realize, there is a cost to not dealing with this…
If You Ignore It, It Just Gets Worse
What most people do when facing a mountain of incomplete tasks is they either commence the easier tasks to build momentum or they start reading time management books or courses looking for a miracle cure. But for most people, none of that works.
You face the negative consequences of not meeting deadlines

You experience unnecessary stress by doing things at the last minute

You miss out on advantageous opportunities
And what happens if you just do nothing? If you just keep doing what you've been doing?

You will caught in an endless cycle of stress, loss of income, deteriorating credibility and perhaps even burnout while you try to keep pace.

When it comes to identifying procrastination I have a favorite question that I call the Wimpy (of Pop-Eye fame) question. What is your answer?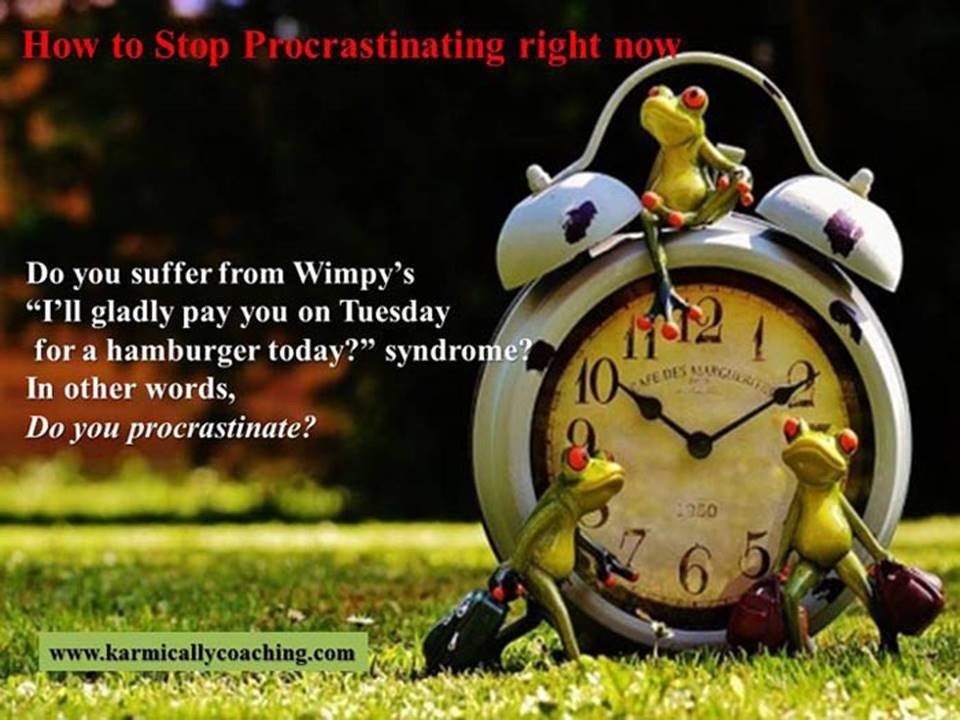 How I achieved high productivity without stress
I've got an answer that works. Here's the story:
Anyone who is or has worked in the corporate world knows that we work on deadlines and not completing a task by deadline has serious consequences.
I noticed I could get some tasks done quickly but there were others where I dragged my feet. In other words, I had my own personal style of procrastination.
I realized that procrastination was a habit and habits could be changed. I didn't need any high-end trainer or a bunch of books. I could quit the habit and I created my own method.
It worked for me and it has worked for others.
Here's what it did for me… whenever I found myself procrastinating, I would try to find out the underlying feelings, fears and confront them. I used a technique that motivated me to complete the task and formed new and better habits. And it's not just me - check the testimonials!

Finally, It's Your Turn
When you get the Karmic Ally Coaching's How to Stop Procrastinating right now Mini-course today, you'll get the key to tackling your personal brand of Procrastination in 5 days – guaranteed!
Taking 1 step at a time over 5 days you will
Identify your personal procrastination habit

Discover and apply an efficient way to overcome inaction

Identify core reasons for your habit

Learn a unique Muscle testing technique to tap into your intuition (I'll show you a method to do an honesty test for the reasons why you think you procrastinate -which means no more excuses)

Embrace a better philosophy to replace procrastination and

Do daily exercises that create a new mindset & habit
The lessons are short with quick actionable steps and worksheets that guarantee results provided you follow the guidance.
And you are 100% safe to try this out. That's all I'm suggesting. Just try it for 7 days to see if it works for you.
It's Decision Time
You have a choice to make: Do what you've been doing (or worse, do nothing at all). You know where that will lead. Is that really where you want to go?
Take a new action, and get a new result.
Finally get rid of your procrastination habit.
Which do you really want for yourself? Here's what to do now…
Are you ready to take action and become productive?