As you'd noticed in the promo video above (do take a look, - its saying everything without cluttering up the page!), the possibilities are endless and it all comes down to your decision to take action.

That's where the 21 Days from Chaos to Order – the Clutter Free Challenge helps.
This self-help course is different from other challenges because we address both the outer manifestation of clutter as well as look within ourselves to identify the cause for our tendency to acquire objects and take steps to overcome it.

In fact, when I ran the beta challenge back at Facebook,1 participant claimed emptying out her garage helped her raise $300 or so to pay her tax bill!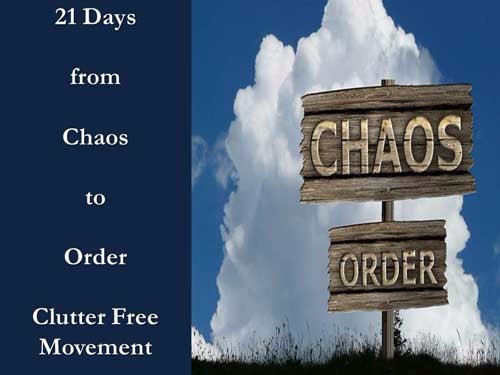 What we will do during the course of the 21 Day Clutter Free Challenge?
The Outer Work - Commence the activity of getting your clutter under control
Essentially over a 21 day period (you chose your 21 days) you select 21 tasks from a checklist of 31 items to de-clutter and also have my support wihin the course area.
How many you do in a day or how much time you spend on a task is entirely up to you. There are 31 tasks to choose from and you can continue even after the Challenge ends and use the task list for future Spring Cleaning purposes.
To help you get the most out of the Challenge
The Task List is sprinkled with tips that can help speed up your de-clutter activity
You will get checklists and self-coaching worksheets to help you take effective decisions regarding clutter items and how to refrain from adding new clutter in place of that which you are getting rid off.
You will receive guidance on setting yourself up for the challenge, the task list and how to dispose the items that were creating clutter on enrollment.
The Inner Work – Understanding the psychology behind your clutter and hoarding tendencies
This part of the challenge is where we will work on your inner game to gain insights into your cluttering and hoarding tendencies and work on how you can resist the urge to return to clutter and hoarding once the challenge is over.
We'll also look at the Shiny Object Syndrome and how to tackle it.
Through short tutorials delivered via audio and video recordings, self-assessments and facilitator you will be empowered to understand your inclinations towards cluttering and work out steps that you can take to overcome the clutter habit.
By the end of the course, provided you take action, you will have
Completed 21 de-cluttering tasks with enough tasks left to continue the de-cluttering work even after the challenge period is over.
Gained an insight into your stress manifestation symptoms and begun to learn to control your clutter and hoarding habits
Taken action to tackle Shiny Object Syndrome at both a Macro and Micro Level
Taken back control of your life, space and energy
Gotten some money out of your junk!
So are you game for the challenge? If yes, then sign up now!